Efficient Client Reporting with Automated Reports
Showcase the efficiency of your marketing agency by creating a one-stop-shop data collection center. Connect the client's metrics reporting platforms to one customized dashboard and enable automated reporting for clients.
Get Started - it's free
Client Report Automation
for Marketing Agencies
Put a pin to manual client reporting with automated SEO reporting tools. Override the manual process and let automation schedule and approve the reporting for your clients.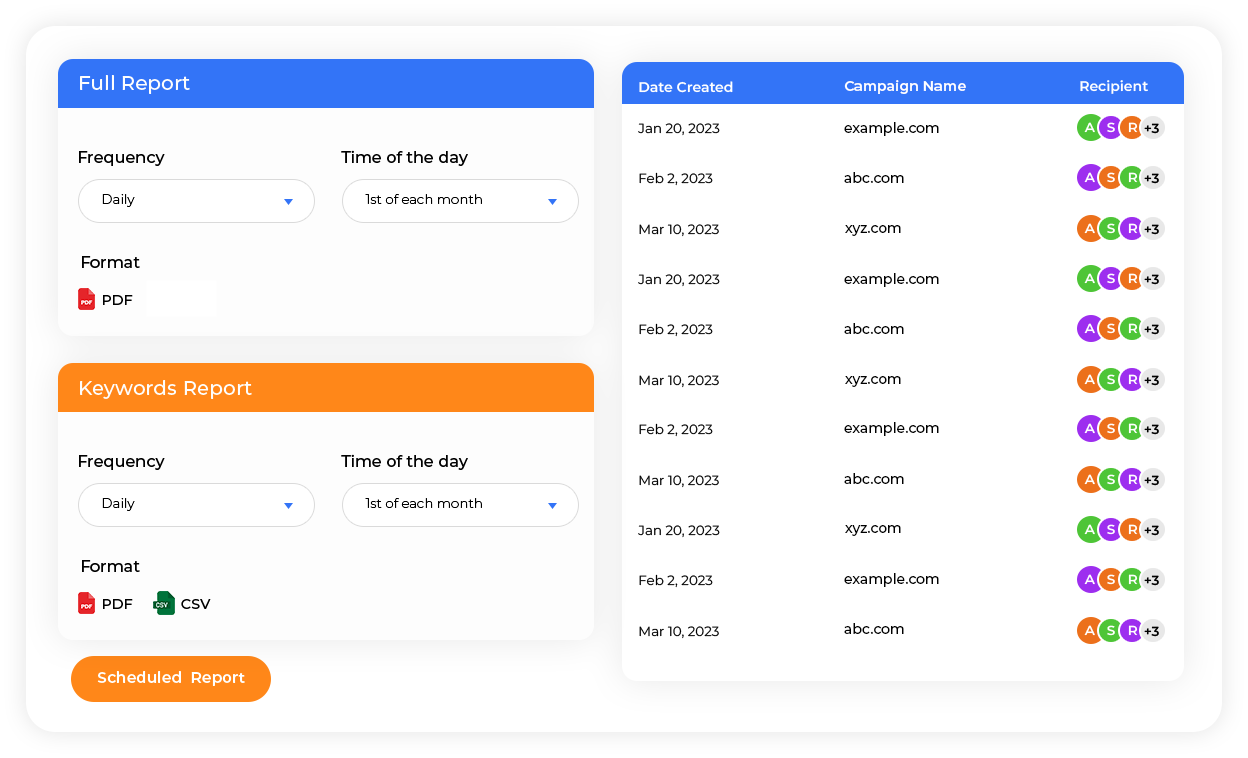 75+ Integrations
Join our fast-paced world of digital marketing services. With 75+ integrations and counting, we keep you updated with your metrics data in a single place.

Custom Dashboards
With a large scope of customizations, build automated reports with white-label branding. Offer easy-to-understand reports to your clients.

White Labeled Reporting Software
Provide detailed reports with your own logo on your own domain. Our SEO automated reporting tool provides full control over the platform to strengthen your brand.

Complete Automation Reporting Tools
Forget switching platforms and save time with our automated reporting tool. Transfer all client data to a single dashboard in one place.
Detail Oriented Automated
Client Reporting
Agency Dashboard serves as the best marketing automation reporting platform for clients. With multiple platform integrations in one, we provide the analytics of all your metrics in a customizable, easy-to-understand dashboard. We compete with market leaders like SEMRUSH, Agency Analytics, and Ahrefs.
With our automated reporting software, agencies can schedule automated white-labeled reports for their clients. You can select the frequency of receiving the full report and keyword report. You also have the option to select the time of day and the format (either PDF or CSV).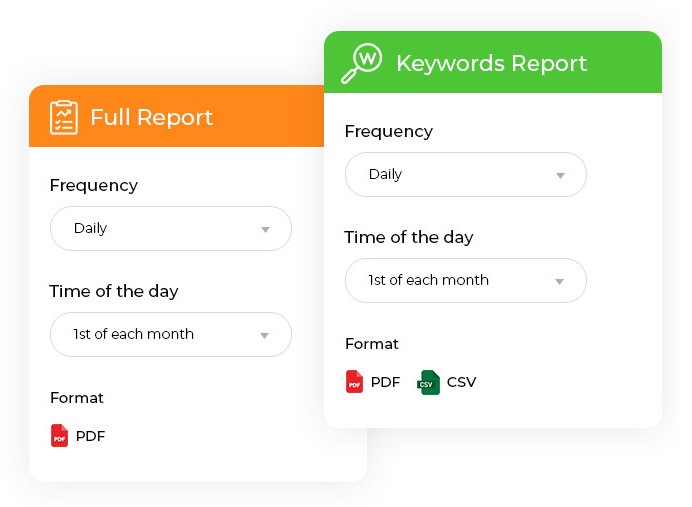 Customize Your
Automated Reporting Email
Agency Dashboard has established itself as a remarkable report automation tool in the industry. Our white-label reporting allows your agency to customize your SEO and keyword rankings report emails. Agency Dashboard allows you to pick between whether you want to send a full report or just the keywords performance report.
You can also select multiple recipients for the email. The dashboard allows you to add multiple campaigns in the email making it easier for your client to track multiple projects.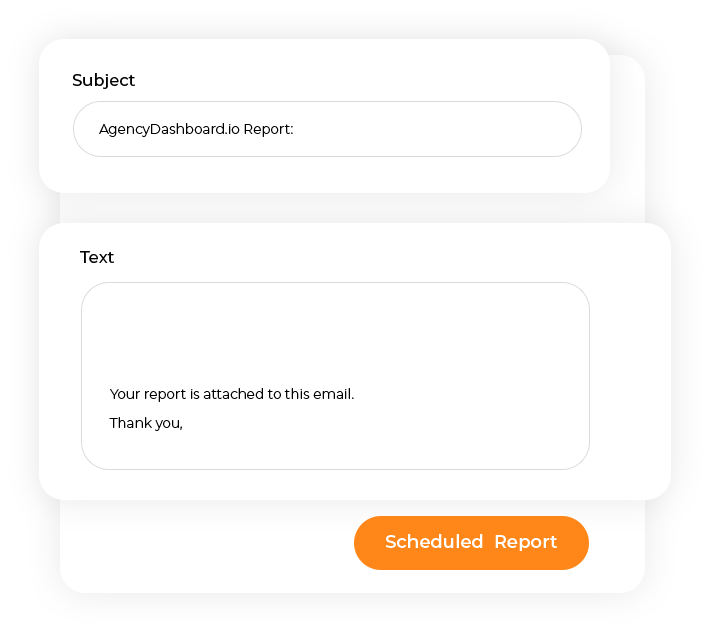 White Label
Automated Reporting Process
Our white-label automated reporting system allows you to add the logo and name of the agency to the custom reports. You can replace our domain with a custom domain name for the business to share the reports in the email.
We provide the flexibility of custom report designing with your agency's branding and client's branding. You can further add a customized color scheme to your reports to make them match your branding.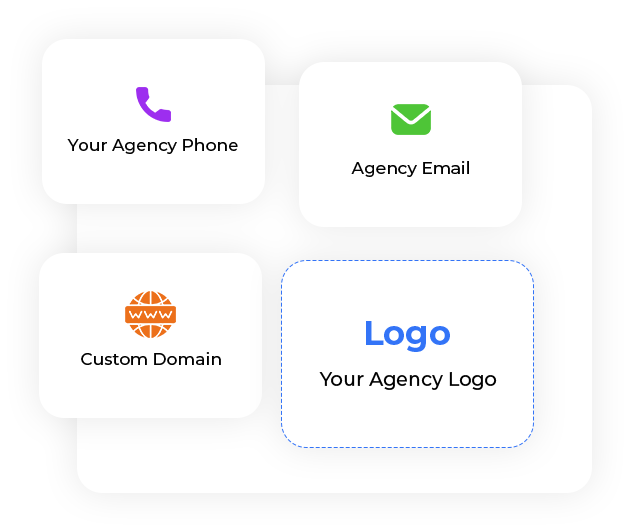 Multiple Tools Integrated Under One Roof
With support for over 75+ analytical tools (and counting), Agency Dashboard provides a time-saving interactive dashboard for your marketing efforts. This single dashboard provides you insights into the metrics across all your marketing channels.
Our dashboard helps you enhance your campaign performance by simplifying SEO, PPC, social media, call tracking, and workflow. Easier tracking helps in making quick decisions regarding any changes in the campaign.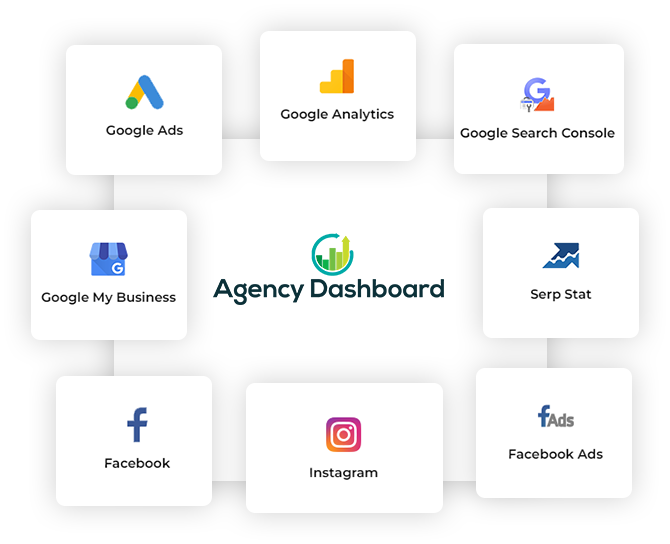 Maintain Easy Access to Your Automated
Ranking Reports
You can access the reports that you have scheduled with the automated report generation software. The platform gives you options to remove a scheduled automated PPC report in case there are some changes in the metrics. You can further edit the scheduling of the report according to the requirements of the client.
If there's an emergency, such as wrong data or report failure, you can immediately cancel scheduling and manually send the report.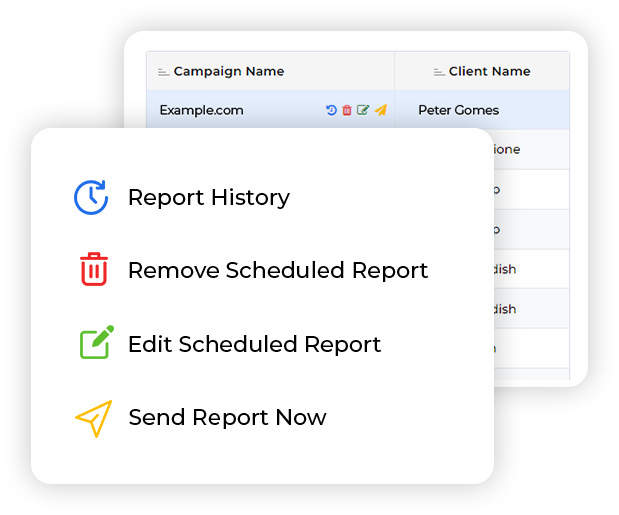 Prioritized Support for
Our Customers
We've got a dedicated team that will help automate AdWords reporting and other platform reporting for your client. You can reach out to us regarding any issues related to the report generation, and we'll resolve them within 24 hours.
We provide the best customer support to our clients. You can also search on the dashboard support tool to get answers regarding your quick queries. You can also get in touch with us and our experts will guide you through the process.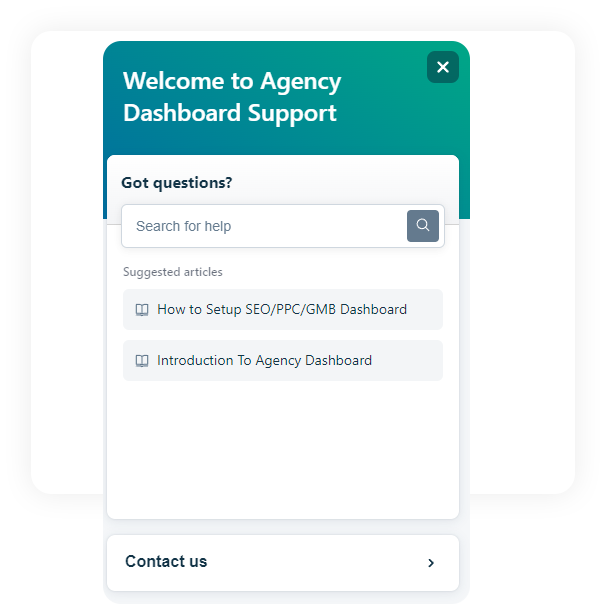 Frequently Asked Questions (FAQs)
Automated reporting refers to the process of generating and distributing reports without manual intervention. It involves using software or tools to collect, analyze, and present data in a structured format, saving time and effort.
Automated reporting streamlines data analysis, reduces human error, accelerates report generation, and provides timely insights. Stakeholders can make informed decisions quickly and focus resources on analysis instead of manual report creation.
The packages that we are offering already consist of all the services we can offer. From PPC reporting tools to link building to reports automation, everything is available in the plans. If you have any questions or want a personalized plan, you can get in touch with us.
Yes, automated reporting tools can integrate data from various sources like Google Ads, Facebook, GMB, and our Rank Tracking spiders. With Agency Dashboard, you get the facility to integrate 75+ platforms in a single place. This can help you keep track of all your metrics. This enables comprehensive reporting by combining data from different systems.
Our base package starts at an efficient price of $5. Under this package, you can add a single campaign and get access to 3 dashboards. Each dashboard will offer different tracking metrics. You can have a dashboard for social media, one for keywords and SEO, and the last one for your PPC campaigns.
Yes, you can specify recipients by email address or user account. This ensures that the right stakeholders receive relevant reports. You can further create an access view key for the campaigns to let the respective clients have access to the data.
Most reporting tools provide scheduling options, allowing you to set specific dates and times for report generation. Reports can be daily, weekly, monthly, or based on custom schedules.
The reporting tool's abilities determine the different formats for making reports, such as PDF, Excel, or CSV.
Most automated reporting setups enable you to preview and validate reports before they automatically distribute them. This helps catch any errors or discrepancies.