SEO Checker for Fast Complete Website Audit
Get a detailed SEO report with a personalized checklist on how to improve your website and get to the top of Google.
Why SEO pros and Digital Agencies Choose Us
Website audit tool with expert-level features, made for everyone (even beginners!)

All crucial metrics in one simple dashboard
Find the important parameters visualized on performance graphs

Full issue descriptions and a
how-to-fix guide
Study detailed site audit reports for every problem, with easy-to-follow quick fixes

Powerful page crawler
Find the important parameters visualized on performance graphs

Measurable progress
Compare website audit results, and share reports with clients and colleagues

Custom settings
Adjust settings to fit your needs, report parameters, choose the issues to monitor

Get a viewkey to show your client
Find the important parameters visualized on performance graphs
Check Site Health with Our Website Audit Service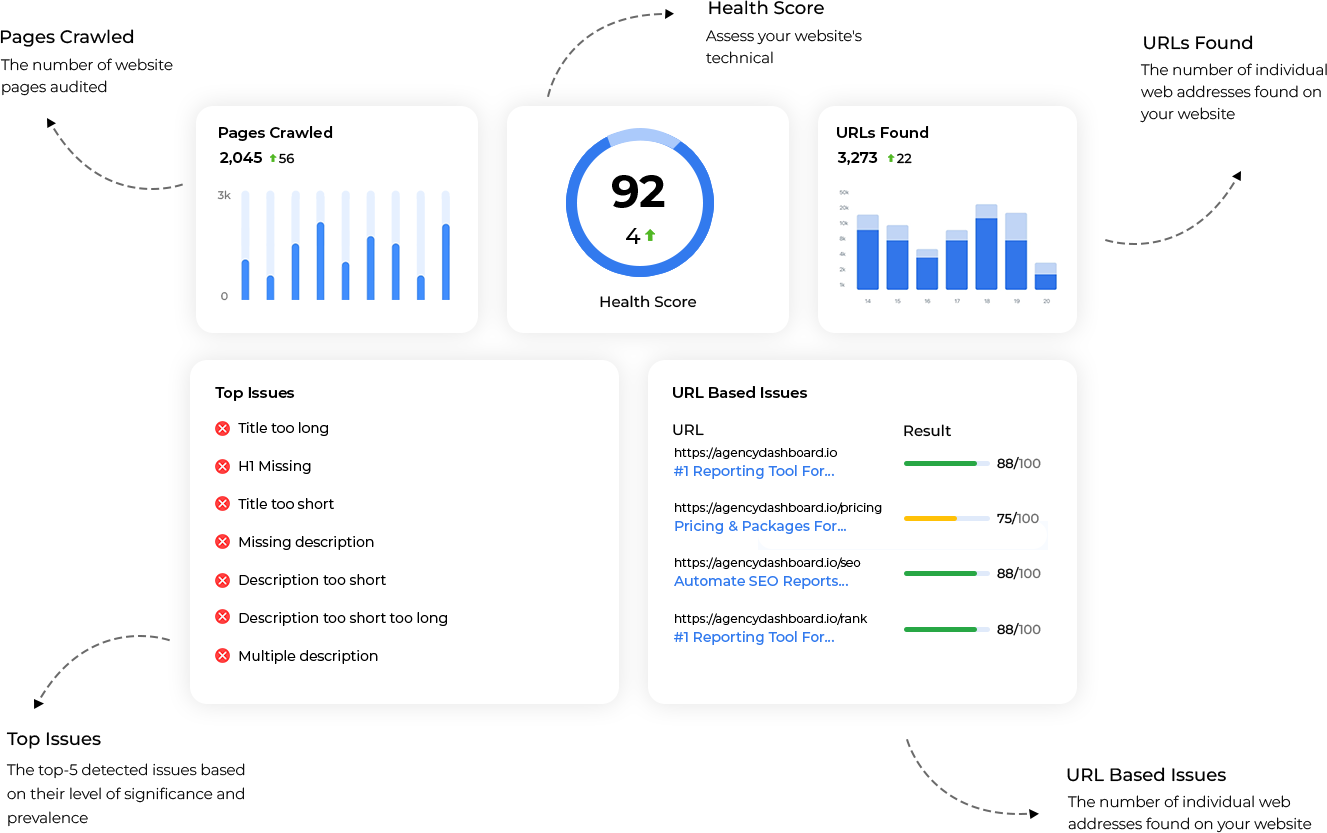 Website Audit Report with Crucial Tracking Metrics

Crawled pages

Security

IP dedication

Export PDF
All Critical Metrics, One Clear Dashboard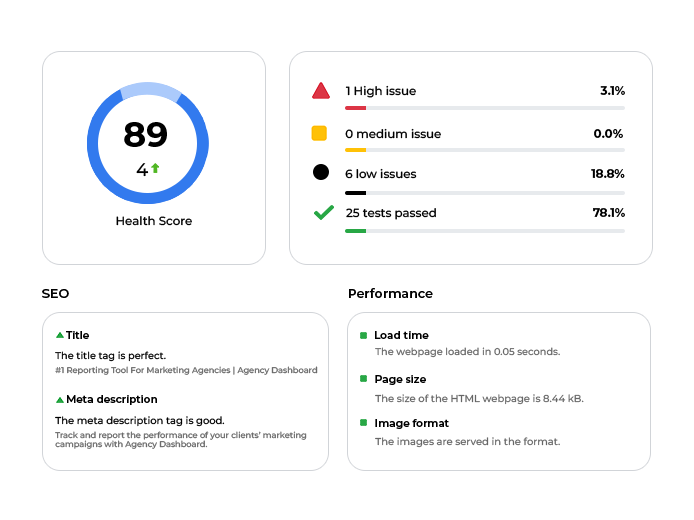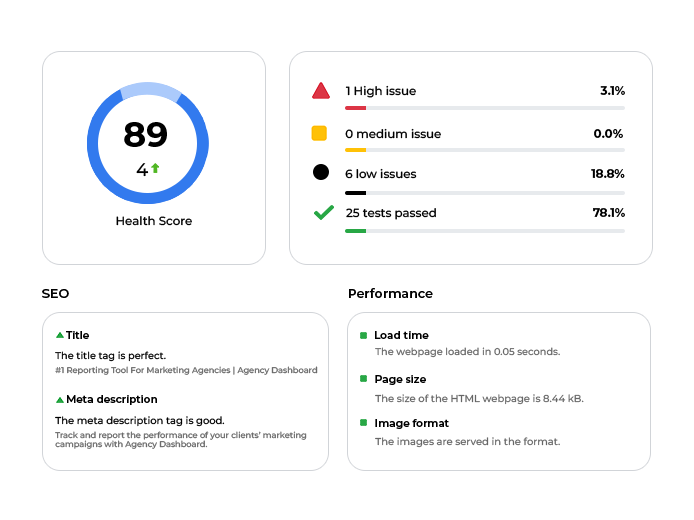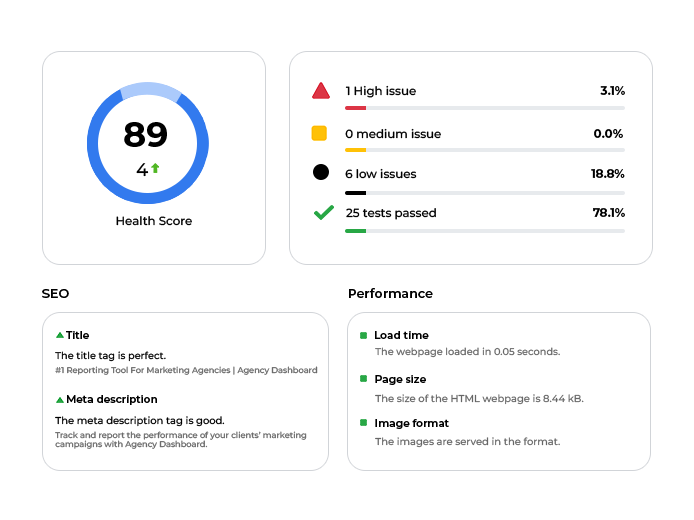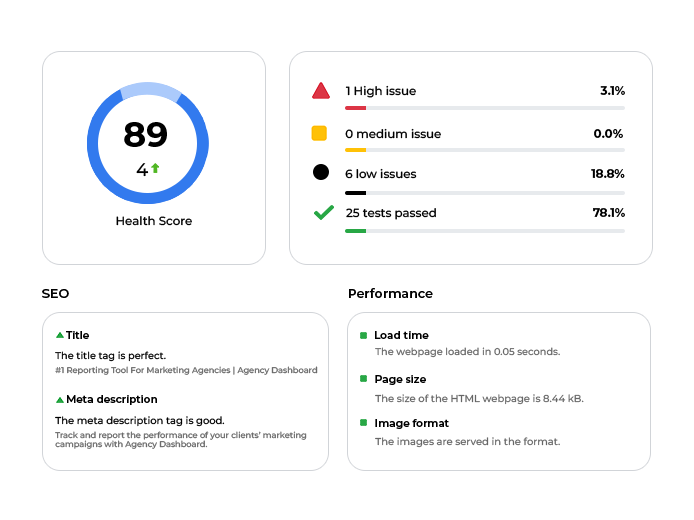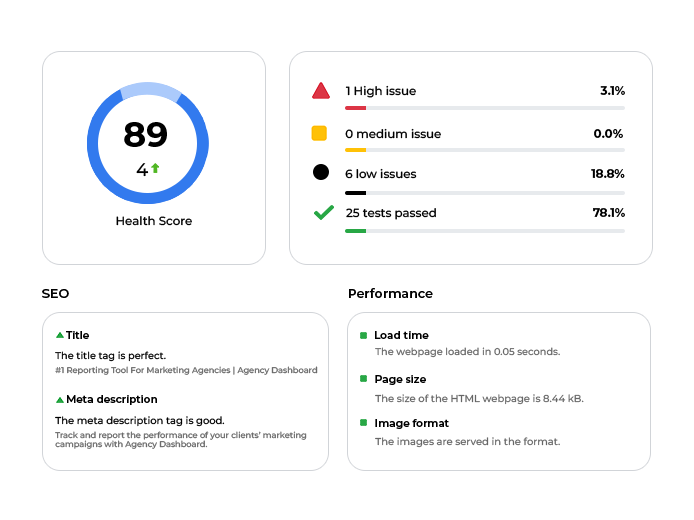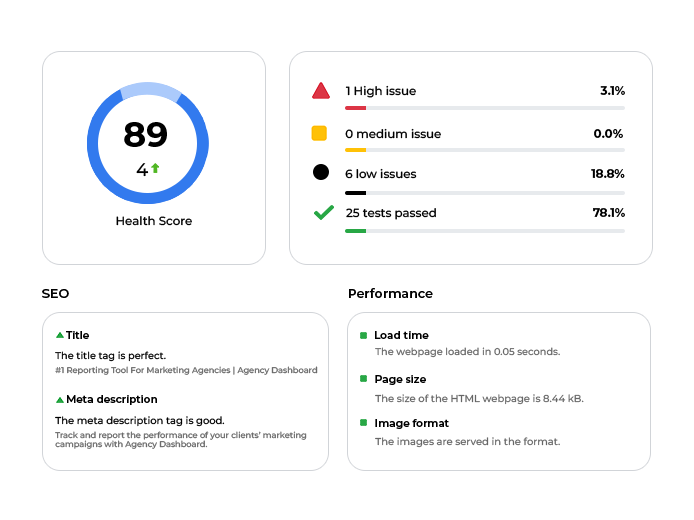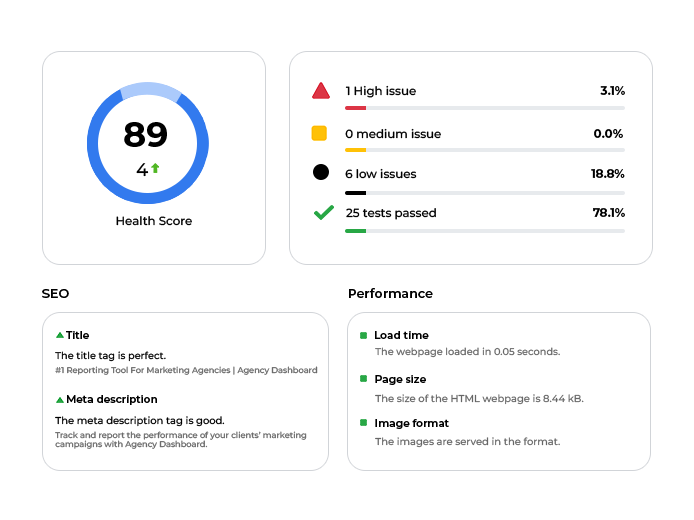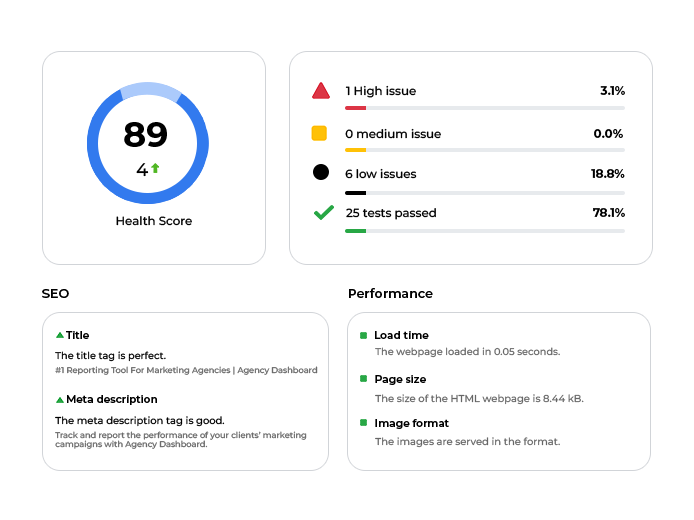 Technical Website Audit Parameters

Security
Our audit website tool gives information on whether a site is SSL-secured or not. Further, it also gives information on the safety of the site. We check if the website has safe browsing enabled through Google.

Optimized for Speed
Optimized pages by content marketers rank better and load faster. This improves user interaction with the website.

Usability
Look for ways to make your website work in a better and safer way. The Agency Dashboard gives you suggestions regarding how you can improve your performance.

Crawled Pages
At a given point, you can get information and crawl up to 10,000 pages. The crawled pages will give you information regarding the performance of your pages.

Dedicated IP Address
Your campaign will inform you about the IP address from which it fetches the audit report.

HTTP Status
It is crucial to ensure that every page available on your website returns the right HTTP code. This helps in offering a better user experience and search engine rankings.
SEO Audit of Every Single Page, Link, or Resource
Analyze every single website page in detail or filter them using custom parameters
Free Website SEO Audit of Every Page, Link, and Source
Conduct a website technical audit of every single page on your website and make ideal changes.

Schedule Site Audits
Select the optimal timing and method for auditing your website. Commence the audit through manual initiation or establish a system for automated evaluations.

Receive Reports in Inbox
Say goodbye to laborious technical SEO audits as we conveniently deliver comprehensive reports to your email inbox.

Page-Specific Site Audit
Tailor your website audit to a specific scope or extend it to encompass your entire site. Our reports maintain laser-sharp focus, regardless of your choice.

Set Limits to Website Audit
Exercise complete authority over the auditing process by overseeing parser settings and determining the audit's scope.

Categorize Parameters
Make customized selections on the parameters that need your attention during the website audit.

Customized Rules
Create customized rules to gain insights regarding your website that are important for your SEO strategy.
Frequently Asked Questions (FAQs)
A website audit is a comprehensive examination of a website's performance, structure, and content to identify issues and opportunities for improvement. It is a crucial process for website owners and marketers because it can significantly impact a site's success and user satisfaction.
A website audit finds problems with your site, like technical issues, SEO problems, usability concerns, and content quality. By addressing these issues, you can enhance user experience, improve search engine rankings, and boost overall website functionality.
The frequency of website audits can vary depending on the nature and size of your website. However, experts generally recommend performing a thorough audit at least once a year. This annual audit serves as a baseline assessment of your site's health.
If your website undergoes frequent updates, changes in pieces of content, or experiences issues, more frequent audits may be necessary. We recommend doing audits every three or six months for these situations. You should do audits using a website audit checklist to quickly find and fix issues on the website.
Our service allows you to crawl up to 10,000 pages with the Agency Dashboard. Our website SEO audit services include technical analysis of your website. The analysis provides all the issues that are present on your website from page titles to blog posts to internal linking. Along with this, our tool gives you suggestions on how you can improve these issues.
Under the free SEO website audit, we provide information for individual URLs based on different issues including:
Website Performance:
Page Load Speed: Analyzing how quickly web pages load, identifying bottlenecks, and optimizing assets like images, scripts, and stylesheets.

Server Response Time: Evaluating the time it takes for the server to respond to requests, and optimizing server configuration.

Caching: Checking if we have properly implemented browser caching and server-side caching to reduce page load times for returning visitors.
Mobile Responsiveness:
Mobile-Friendly Design: By using responsive website design principles, we ensure that the website works well on various screen sizes and mobile devices.
Website Security:
SSL Certificate: Verifying that the website uses HTTPS to encrypt data transmission and establish a secure connection.

Vulnerabilities: Scanning for security vulnerabilities like outdated software, plugins, and potential exploits.

Malware and Blacklisting: Checking if the website is free from malware and not blacklisted by search engines.
Crawlability and Indexability:
Robots.txt: Review the robots.txt file to ensure that search engines can properly crawl and index the website's content.

XML Sitemap: Checking for the presence of an XML sitemap that helps search engines understand the website's structure.
URL Structure and Redirects:
URL Consistency: Analyzing if URLs are structured logically and consistently throughout the site.

Redirects: Identifying and optimizing unnecessary or broken redirects, as well as implementing proper redirect strategies (e.g., 301 redirects).
Structured Data Markup:
Schema Markup: Checking if structured data markup is being used correctly to help search engines understand content for better search results.
Website Accessibility:
ADA Compliance: Checking if the website meets accessibility standards, making it usable for people with disabilities. This includes elements like alt text for images and proper semantic HTML.
Analytics and Tracking:
Analytics Setup: Verifying the correct implementation of analytics tools (e.g., Google Analytics) to track user behavior and gather insights.

Conversion Tracking: Ensuring that conversion tracking is set up accurately to measure the effectiveness of marketing efforts.
Technical SEO:
Canonical Tags: Checking if canonical tags are used appropriately to indicate the preferred version of duplicate content.

Pagination: Handling pagination correctly using rel="next" and rel="prev" tags, or other techniques.
The Agency Dashboard has been on the market as a leading SEO website audit tool. There are a number of services that are available on the dashboard which are not accessible on other platforms. Here are the advantages you get when you switch to Agency Dashboard:
More services at lower pricing: We have a complete suite of features such as rank tracker, agency management, 100% white label, and site audit. We provide keyword research, content bots, and Google integrations.

Free Audit with File Extraction: Agency Dashboard provides you with a website audit free where you can get information regarding which URL requires improvement. However, unlike other platforms, Agency Dashboard allows you to extract the audit report as a file.

Content Tools: We offer various tools such as blog writer, content rewriter, SEO writing assistant, and meta tag generator. These tools enable users to create unique AI-generated content with target keywords. You have the ability to produce the content a maximum of 10 times.

Multiple Manager Accounts: The Agency Dashboard allows you to create as many manager and client accounts as you want. You can handle one single-parent account from where you can grant or restrict access to information for the other accounts.

Public Sharing View Keys: You receive a public sharing view key that you can share with your clients. This URL will contain the information you need to know regarding your campaign.

White Label Included in Package: Most of our competitors offer white labels at additional prices; however, we offer the service within the package prices.

Website Audit: We offer unlimited crawling for up to 10,000 pages per website audit.

Dashboards Available: We have different dashboards for your SEO, PPC, and social media efforts. You can track the progress of your campaign on different platforms in a single dashboard.

Integrations: With Agency Dashboard, you get the opportunity to integrate more than 75 platforms in a single dashboard. These integrations allow you to access all your campaign related performance metrics in a single dashboard.
Yes, you get free white-label reporting with Agency Dashboard once you buy our subscription. We offer white-label reporting as a standard part of our package. This improves your experience making your reports personalized by including the brand logo and name in the reports. You can also choose the color and design of your choice for the reports.
There are several tools and software options available to help you conduct a website audit. These tools offer various features and functionalities to suit different needs and budgets. Here are some popular website audit tools:
Google Analytics: This free tool provides valuable insights into your website's traffic, user behavior, and conversions. It's essential for understanding your audience and tracking site performance.

Google Search Console: Google's Search Console is a free tool that helps you track how your website appears in search results. It also gives you information about problems like indexing errors and mobile usability.

Moz: Moz offers a suite of SEO audit website tools, including Moz Pro, which provides site audits, keyword research, and link analysis. It's a comprehensive solution for improving your website's SEO.

Ahrefs: Ahrefs is a powerful SEO toolset that includes website content audits, backlink analysis, keyword research, and competitive analysis. It's particularly useful for tracking your site's backlink profile and SEO performance.

SEMrush: SEMrush offers features like site audits, keyword tracking, competitor analysis, and more. It helps you optimize your website's SEO and content strategy.

Screaming Frog: Screaming Frog is a tool that finds problems on your website, like broken links and duplicate content.

Sitebulb: Sitebulb is a website SEO audit tool like Screaming Frog. It gives detailed reports on technical issues, crawlability, and site structure.
The choice of tool depends on your specific requirements and budget. Many of these tools offer free trials, so you can test them to find the one that best suits your needs.
Website page speed is a critical factor for user experience and SEO. Slow-loading pages can drive visitors away and negatively impact your search engine rankings. Here are some steps to improve page speed based on audit findings:
Optimize Images: Compress and resize images to reduce their file size without sacrificing quality. Use the correct image format (e.g., WebP) for faster loading.

Leverage Browser Caching: Set caching headers on your server to allow browsers to store and retrieve static resources faster when users revisit your site.

Content Delivery Network (CDN): Use a CDN to spread your website's content on many servers globally, reducing data travel distance and improving load speed.

Minify CSS and JavaScript: Remove unnecessary whitespace, comments, and code from your CSS and JavaScript files to reduce their size.

Enable GZIP Compression: Enable GZIP or Brotli compression on your server to reduce the size of HTML, CSS, and JavaScript files during transmission.

Reduce Server Response Time: Optimize your server and database to minimize the time it takes to generate and serve web pages.

Eliminate Render-Blocking JavaScript and CSS: Prioritize critical resources and load them before non-essential elements to speed up the initial rendering of pages.

Use Lazy Loading: Implement lazy loading for images and videos so that they load only when they become visible to the user.

Optimize Code: Ensure that your website's code is clean and efficient.